Washing Machine Buying Guide
July 25, 2023
2023-10-11 15:42
Washing Machine Buying Guide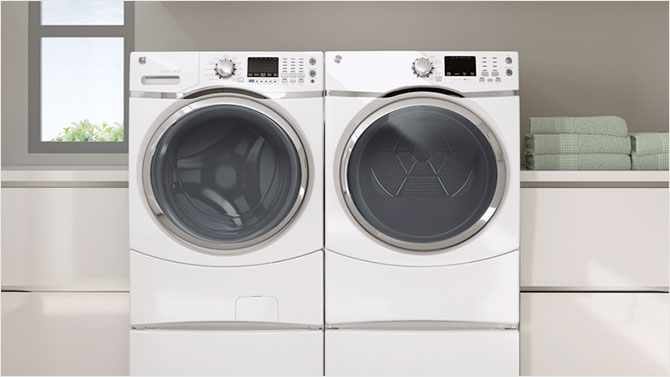 Washing Machine Buying Guide
How to Choose a New Washing Machine
Fitting a Washing Machine into Your Home's Design
Measure the space available for your new washing machine. This is a crucial step in deciding which washing machine unit is the right size right for you.
Range of Widths: Washers are available in widths between 24″ – 30″
Range of Height: Washers are available in heights between 33.5″ – 42.6″
Range of Depths: Washers are available with depths between 25″ – 32.5″
---
Washing Machine Types
Washers can vary in efficiency, wash speed, capacity, and dimensions.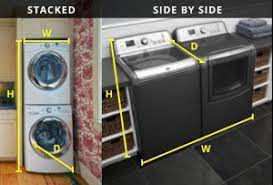 Top Load Conventional Washing Machines
Top Load Conventional Washing Machines feature an agitator that rolls the clothes around, pulling them from top to bottom. Due to the rolling, the clothing rubs against each other, causing the cleaning action.
Pros: This washer type is the least expensive, and most customers are comfortable and familiar with these washing machine models.
Points to Consider:

 Top Load Conventional models are less gentle on fabrics, do not pre-mix detergents, and use up to 20 more gallons of water per load. They also have a smaller load capacity.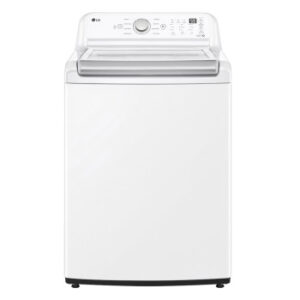 Top Load High Efficiency Washers feature a wash plate that creates current. This flexes and tosses clothing around, rubbing them together, and causing the cleaning action.
Pros: Top Load High Efficiency Washers have a larger capacity, clean clothes more effectively, and have a higher spin speed, causing less drying time. They also feature electronic control boards.
Points to Consider:

 This type of washing machine should not be filled to capacity maximum due to their loading process needing extra room for the water. These machines also consume more water and energy than front load and have the slowest wash cycle times.
---
Front Load High Efficiency Washing Machines
Front Load High Efficiency Washers feature tumble wash which rolls the clothing over while being submerged in water and detergent. This causes a constant state of cleaning.



Pros: This type of washing machine can maximize capacity without overloading. It also features the best fabric care and cleaning of all platforms. Front Load High Efficiency washing machines are also the most energy efficient, consume the least amount of water, and have the fastest combined washing/drying time.
Points to Consider:

 These washing machines have the most expensive starting price point. They also may require leaving the door open after a wash cycle or performing a clean washer cycle to avoid mildew smell.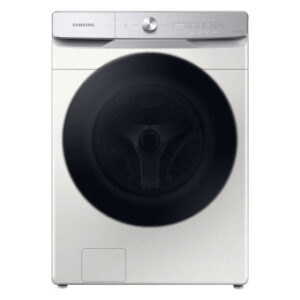 Extra Features for your Washing Machine
Washers have become quite innovative by adding many advanced cleaning options. Select the features below that you would like in your washer.
Capacity:

Capacity is typically measured in cubic feet usually between 1.5 and 5+. You will want to consider how many loads of laundry your family typically does each week. Lower capacity washers are great for small spaces but will fit less. Larger capacity washers can fit large and bulky loads more easily.

Variable Wash Settings:

Washers can feature up to 20 wash settings and include: Delay Wash, Express Wash, Extended Tumble, Accela Wash, Overnight Wash/Dry, Soak, Quick Wash, Sanitize, and many more.

Dispensing Systems: Adds detergents or Fabric Softener at just the right time for best cleaning performance.
Motor Type: Direct Drive or Belt Driven.
Energy Star: Saves up to $164 per year in energy and water bills.
Steam: Helps to relax fabric and loosen fibers for better stain removal and cleaning performance.
Internal Heater: Increases water temperature to remove tough stains.
Smart Diagnostics: Helps to diagnose problems and provide service remotely. Monitors washing process via a smart device.
Vibration Reduction: Technology that helps reduce vibration and noise during the spin cycle.
Glass Lid: Glass window in washer or dryer lid allowing customer to see washing or drying action.
Pedestals: Pedestals are an optional add-on for Front Load Washers. They raise the washer several inches off the ground and provide a drawer.
Washing Machine Brands
Select from the many washer brands we have to offer. These brands offer many of the different features above.