Refrigerator Buying Guide
July 25, 2023
2023-07-26 13:18
Refrigerator Buying Guide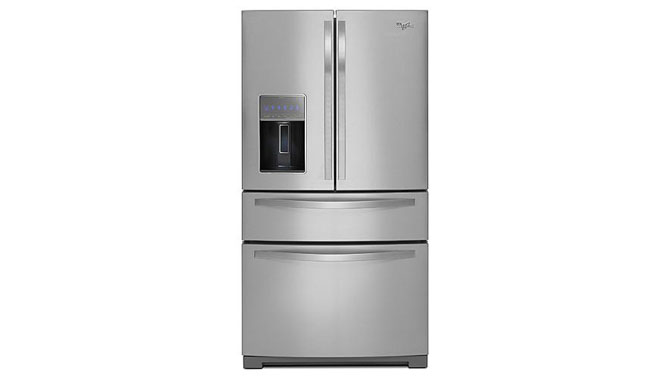 Refrigerator Buying Guide
How to Buy a Refrigerator that Fits Your Space
Measure the space available for your new refrigerator to fit into, including the cabinet opening and overall space available. Height, width and depth are crucial in deciding which format is right for you.
Refrigerator Dimensions
Range of Widths: Refrigerators are available with width between 24"- 48" measured with door closed
Range of Height: Refrigerators are available with heights between 60"-73" measured to top of hinge
Range of Depths: Refrigerators are available with depths between 27"-38" measured with handle
---
Types of Refrigerators
Refrigerators are defined by the location of the freezer and the width of the unit.
---
Bottom Mount Refrigerators
Bottom Mount refrigerators feature the freezer at the bottom of the unit.
Pros: Most commonly reached items in refrigerator are all at eye or chest level. Larger capacity. More ways to store and organize. Bottom freezer options of lift-out baskets or pull-out shelves. More options for benefit features such as thru-door water and ice dispenser, and door-in-door option. Wide shelves for storing large platters.
Points to Consider: Larger dimensions, may not be suitable for customer's preset cutout. Higher costs than other fridge types due to added features. Smaller frozen food space due to compressor stored in the bottom unit. Potentially bothersome for people with back problems reaching into freezer.
---
French Door (Side-by-Side)
Side-By-Side french door refrigerators feature the freezer with a pantry style door.
Pros: Can place commonly used refrigerated and frozen foods at a convenient level. Reduced need for door clearance, therefore takes up less space in your kitchen. Feature options such as thru-door water and ice dispense.
Points to Consider: Limited on sizes of items able to store due to width of shelving.
---
Top Mount Refrigerators
Top Mount refrigerators feature the freezer at the top of the unit.
Pros: Around for nearly 25 years longer than other types of fridges, top mounts over time have been designed for reliability. Lower price points. Some models can be more energy efficient. Takes up less space in your kitchen.
Points to Consider: Simple. Not as much storage space as other formats. Limited options for ice and water. Lack convenient features such as thru-door dispenser.
---
Extra Features for Your Refrigerator
Select the features that you would like in your refrigerator. Fridges have become quite innovative and many different features are available for each format.
Dual Evaporators : Two separate systems to keep the refrigerator cool and humid, and the freezer dry and cold – ideal for preserving food longer.
Convenience Door : Allows storing and accessing food in an external compartment while keeping other items sealed within. Convenient placement for most used items. Efficient to save energy.
Configuration :
2 Door – Standard
3 door – French Door
4 door – Option for French Door with additional separate refrigerated and temperature controlled drawer. Some models have the extra door able to transition from freezer to refrigerator.
5 door: More flexibility on storing and organizing, while giving you the benefit of controlling temperatures based on what you store.
Ice Maker : Ice makers can make cubes, crescents, or crushed ice depending on the model. These can be contained within its own compartment or linked to a dispenser.
Filtered Water : Have ready to drink water straight from your refrigerator.
Ice & Water Dispense : Option to have a water or ice dispenses through the door for added convenience. Premium models keep ice stored on the door to clear shelf space, and include a hot water dispenser.
Air Filtration : Added filter that works with air circulation to filter out smells and keep your food fresh.
Temperature/Humidity Control Drawers : Designed to give you the ability to customize temperatures based on the food you store for optimal food preservation. Some fridge models feature additional door configurations with temperature controlled drawers. This feature makes your refrigerator more efficient in preventing unnecessarily escaping coldness.
Shelf Material :
Wire – Classic option.
Glass – Comes with spill-proof options and the added option of retractable shelves to allow more space for larger items.
Adjustable bins : Customize your organization between large items like milk, to all your favorite condiments.
Energy Star Certified : Helps save energy and money on your bill!
Reversible door : Only on select models. Allows you to flip the swing on your door for convenience between cabinets and walls in your kitchen, or for left handed individuals! bottom mount refrigerator bottom mount refrigerator bottom mount refrigerator
Refrigerator Brands
Select from the many brands we have to offer. Each brand offers many of the different features above.
Stop by an American Freight Store today!
Stop by an American Freight Store today and our certified sales team will help you pick the range that's best for you. We'll have it delivered and installed in your home as soon as possible.
Find a Store Near You