Living Room Furniture Buying Guide
May 14, 2023
2023-07-26 14:10
Living Room Furniture Buying Guide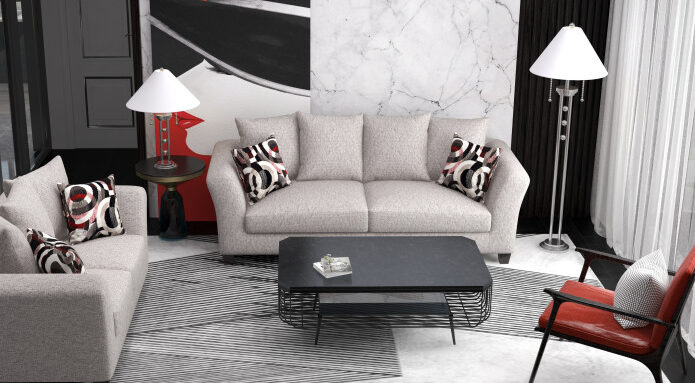 Living Room Furniture Buying Guide
What You Should Know Before Starting Your Living Room Furniture Shopping
Are you looking to refresh the look of your living room? While choosing the right furniture can seem overwhelming, it doesn't have to be.
Before you get started, it's important to understand the basics of choosing living room furniture. What should you take into consideration? First, decide on the types of types of furniture you want to buy. Sometimes, you can get a better price if you shop for a set.
Next make sure that you have accurate measurements for your living room so you can ensure that everything fits.
How to Measure & Choose the Right Size of Living Room Furniture?
Getting accurate living room measurements is essential, this is because the wrong size furniture can throw off the scale of the room. If you choose too many pieces or oversized furniture, it can make your room seem cramped or cluttered. Buy furniture that's undersized and your space may look too empty or off-balance.
The best way to measure a living room is to use a standard tape measure. You can write down all your measurements in a notebook or using a note app on your phone.
Start by measuring the length and width of the room.
Make sure you measure any odd spaces like alcoves, bay windows or any built-ins features.
Measure the height of the ceiling, as this will impact the type of furniture that can be used, especially for shelves or lighting fixtures.
Measure any doorways or entrances to the room to ensure that any new furniture will fit through easily.
Make note of any windows, sliding doors or areas that you don't want blocked by furniture.
Once you have measurements of the open areas in your living room, see if the couches or accent chairs you are interested in will fit in that space.
If you want to be more accurate, you can use a 3d planning tool online to mock up the furniture in your living room.
If you are interested in a single piece of furniture, you can use American Freight's AR tool to preview it in your living room.
What Style Living Room Furniture Should I Buy?
Not sure which style will work best in your living room? The first factor to consider is the overall design style of your home. You should choose furniture that complements the rest of your home and that reflects your personal taste.
For example, if your home has more of a modern design, then contemporary furniture will match beautifully. However, if you have a more classic home, you may want to look at traditional furniture pieces.
The second factor to consider is the size of your living room. Large or oversized furniture can make a small living room seem cramped and uncomfortable. However, small furniture can get lost in a large living room. Be sure to choose furniture that suits the size and scale of your living room. You also want to make sure it allows for easy movement through and around the room. So, make sure you've thought about how people will move through the room and if the sofa or coffee tables that you want won't block access to other rooms, patio doors, etc.
The third factor to consider is the material and color of the furniture. Choose materials that are durable, easy to clean and maintain, and that suit the style of your living room. Leather, fabric, and wood are all popular choices. Color is also important because it can set the tone and mood of the room. Neutral tones such as beige, gray, or white work well in most living rooms, but you can also experiment with bolder colors if that suits your taste.
How to Find Quality Furniture at an Affordable Price
Looking for high quality living room furniture at an affordable price? Look no further than American Freight! With a wide range of furniture styles and designs to choose from, you're sure to find the perfect pieces for your living room.
Whether you're looking to buy a stylish new sofa, a comfy recliner, or a new coffee table, American Freight has got you covered. Our furniture is made from high-quality materials, so you can enjoy your new furniture for years to come. With our everyday low prices and financing options, you can furnish your living room without breaking the bank! Visit your nearest American Freight location or shop online now to save!