Condition Info
September 27, 2022
2023-09-27 21:06
Condition Info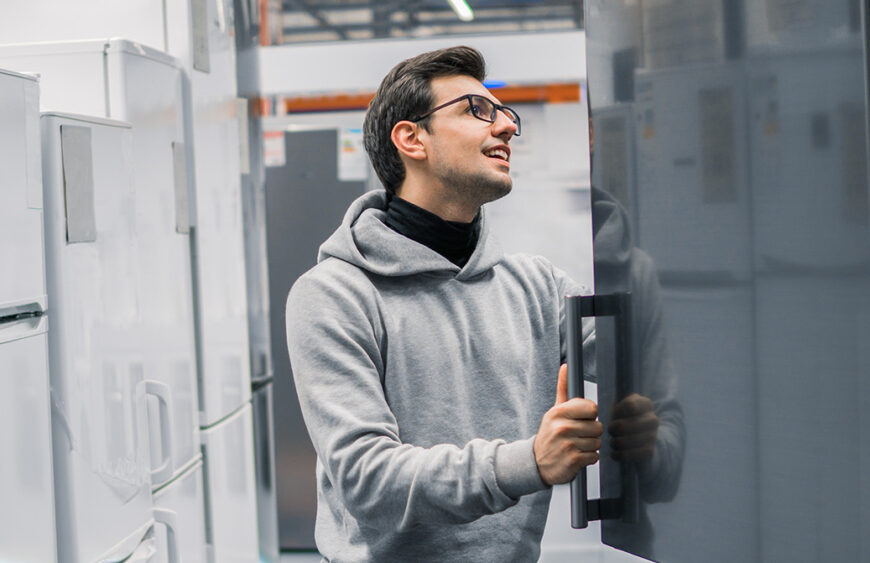 Condition Info
Look inside Open-Box appliances
Slightly imperfect for the perfect price
So, what's an Open-Box appliance?
In short, Open-Box means a big-name appliance that costs a fraction of the original price. We call them Open-Box because, in most cases, their shipping box has been opened, but that's about as far as things go. Open-Box refrigerators, ranges, washers, dryers, and other appliances are rigorously tested and certified, and come with a warranty.
All over the site, we've tagged our open box appliances with specific icons to help you identify the items at a glance. Simply look for the "Open-Box" icon and color to spot a deal.
  Open-Box You can save hundreds if not thousands of dollars on brands like GE, Whirlpool, LG, Samsung and Frigidaire, because Open-Box appliances cost a whole lot less than the same model boxed up in the warehouse. It also means you could upgrade to a fancier model without paying a fancier price.
Oh, and guess what. When you buy an Open-Box appliance, you're saving it from the landfill. Ok, maybe the stove doesn't care, but the planet does, and so do we.
Simply imperfect for the perfect price
Clever slogan, for sure, but what does "simply imperfect" really mean? The truth is, we're kind of vague with that term because it can mean a bunch of different things:
It got dinged, dented, or scratched traveling from the factory where it was made to the retailer who was planning on selling it. Or enroute from the delivery truck to someone's home.
It was overstock. A retailer had too many and wanted to get rid of them.
A customer returned it because it was too big, too small, the wrong color, or they just had second thoughts.
It was a floor model in a store (more like no-box)
Appliances get returned from many retailers
They are brought to American Freight – Tested, repaired & cleaned
You get a great deal on your appliance
Amazing, Right?
Speaking of terms, what about as-is, scratch and dent, refurbished, like-new, non-new, sorta-new?
Sigh. Yes, this industry is full of different terms that all mean similar, but not always exactly the same thing. It's confusing. The reality is most of our inventory is the result of, you guessed it, open boxes. The shipping box was opened only to reveal the fridge is not the right color, the range is too wide, the dishwasher door handle is cracked, or the side of the dryer has a scratch. So when that appliance gets sent back, we buy it, fix it up, and certify it. Then we knock the price down A LOT and sell it to you.
But can I trust Open-Box appliances?
You bet. You can put your trust in the thorough American Freight Certification Process (more on that in a sec), along with a 1-year warranty plus the ability to purchase an extended warranty. And, remember, our Open-Box appliances come from manufacturers you know and love and already store your food, cook your dinner, and wash your clothes in.
Certification is serious business
With more than 350 American Freight stores across the country, our name is pretty important to us. We wouldn't put it on anything that didn't uphold our highest quality standards. That includes the American Freight Stores Certification Process. It's thorough, rigorous, stringent, and all the other adjectives that say we make sure every Open-Box appliance works just like a brand new one.
All certified products:
Are rigorously tested for full, like-new functionality
Have any missing parts replaced
Are refurbished with replacement parts for mechanical defects found during testing
Are fully cleaned and sanitized
Follow the American Freight return policy
Keep your eye on our grades
Not to get too technical, but we do have a system for grading every Open-Box appliance so you know exactly what you're getting. You'll see a condition grade with every product. Here's what they mean:
Like new Looks brand new. No blemishes or only a minor blemish that is not visible from the installed position. Good Minor blemishes on the front of the unit, not visible from the installed position. May also have one or more blemishes on sides and/or top. Fair Multiple minor blemishes on the front of the unit, which may be visible in the installed position. It may also have one or more blemishes on the sides and/or top.
Delivery, hook-up & haul-away
Yes, yes, and yes. We provide all the standard services you're familiar with at big-box stores. We bring the appliance to your home, get it all set up, and take away your old one.
Still have questions?
Fantastic. We love talking about ourselves, especially our Open-Box appliances. Contact your local store to speak with a sales associate on the phone or drop in and check out all our goods in person.